Here are photos that I took of some of my books at home and at the office. By no means all of the books that i own or have read. I am compiling a list below of these books so my clients and friends can find them easily should they decide to look them up.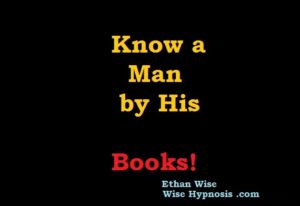 Hypnosis For Change Josie Hadley
101 Things I Wish I'd Known When I Started Using Hypnosis by Dabney Ewin M
7th Path Self-Hynosis – Banyan
Molecules of Emotion by Candace Perth, Ph.D
Essentials of Hypnosis by Michael Yapko, Ph.D.
Magic of NLP Demystified by Byron Lewis
Monsters and Magical Sticks by Steven Heller
http://www.wisehypnosis.com/articles/books-articles/hypnosis-and-hypnotherapy-basic-to-advanced-techniques-for-the-professional-by-calvin-d-banyan/
http://www.wisehypnosis.com/articles/books-articles/the-chemistry-of-calm-by-henry-emmons-md/
http://www.wisehypnosis.com/articles/books-articles/the-chemistry-of-joy-by-henry-emmons/
http://www.wisehypnosis.com/articles/books-articles/hypnotize-yourself-out-of-pain-now-by-bruce-eimer-phd/
http://www.wisehypnosis.com/articles/books-articles/hypnosis-in-the-relief-of-pain-by-ernest-r-hilgard/
Here's my recommended reading list of hypnosis and clinical hypnosis books. My ratings of these books is in between brackets as in (5/5). Allow me to point out that, even though some books may have lower ratings, all the books listed below are worth reading/owning. Some of the books are advanced, some are about NLP, others only have clinical studies. Make sure you know what the book is about by researching it on Amazon before purchasing.
Monsters & Magical Sticks: There's No Such Thing As Hypnosis? – Steven Heller, Terry Lee Steele, Robert Anton Wilson, Nicholas Tharcher (Editor) (5/5)
Hypnotherapy Scripts 2nd Edition by Ronald A. Havens and Catherine Walters (5/5)
Magic of NLP Demystified: A Pragmatic Guide to Communication & Change (Positive Change Guides) by Byron A. Lewis and Frank, R Pucelik (5/5)
Handbook of Hypnotic Suggestions and Metaphors by D. Corydon Hammon (5/5)
Clinical Hypnosis: Principles and Applications (2nd Edition) Harold B. Crasilneck, James A. Hall (5/5)
and
Hypnosis The Induction of Conviction by John C. Hughes (5/5)
Applied Hypnosis and Hyperempiria by Don E. Gibbons
21st Century Medicine: Clinical Evidence for the Healing Power of the Mind – ByC. Devin Hastings –
Get it here from Lulu (5/5)
Hypnotism – by G. H. Estabrook (classical, contains outdated theories – multiple editions 1944 – 1963)
Get it here from Amazon (3/5)
Pregnant Man: And Other Cases From a Hypnotherapist's Couch – Deirdre Barrett Ph.D., Ph.D., Deirdre Barrett
Psychobiology of Mind-Body Healing: New Concepts of Therapeutic Hypnosis – Ernest L. Rossi
Self-Hypnosis: The Complete Guide to Better Health and Self-change – Brian M. Alman, Peter T. Lambrou
The Couple Who Became Each Other: Stories of Healing and Transformation from a Leading Hypnotherapist – David Calof
Clinical & Experimental Hypnosis: In Medicine, Dentistry, and Psychology – William S. Kroger (Author), Michael D. Kapko (5/5)
Patterns of the Hypnotic Techniques of Milton H. Erickson, M.D ** (5/5)
My Voice Will Go With You by Erickson and Rosen ** (5/5)
Frogs into Princes: Neuro Linguistic Programming – Richard Bandler, John Grinder, Steve Andreas (Editor), John O. Srevens (Editor)
Using Your Brain–For a Change: Neuro-Linguistic Programming – Richard Bandler
Training Trances: Multi-Level Communication in Therapy and Training – John Overdurf, Julie Silverthorn, Tad James (2/5*)
The Structure of Magic 1 – John Grinder, Richard Bandler
and this link for other choices
New Master Course in Hypnotism – Henry Arons (5/5)
Hypnotize Yourself Out of Pain Now!: A Powerful User-friendly Program for Anyone Searching for Immediate Pain Relief – Bruce Eimer (4/5)
The Biology of Belief: Unleashing the Power of Consciousness, Matter, & Miracles – Bruce H. Lipton Ph.D. (2/5)
Medical Hypnosis Primer: Clinical and Research Evidence by Arreed Franz Barabasz, Karen Olness, Robert Boland, and Stephen Kahn (5/5)
Analytical Hypnotherapy: Principles and Practice – E. A. Barnett
Hypnotherapeutic Techniques: Second Edition – Arreed Barabasz, John G. Watkins
and
Beliefs: Pathways to Health & Well-Being – Robert Dilts, Suzi Smith, Tim Hallbom
Unlock Your Mind and Be Free: A Practical Approach to Hypnotherapy – Edgar Barnett
and
The Art of Hypnosis: Mastering Basic Techniques – C. Roy Hunter (4/5)
The Art of Hypnotherapy – Diversified Client-Centered Hypnosis, Based on the Teachings of Charles Tebbetts – C. Roy Hunter (4/5)
or
Essentials Of Hypnosis – Michael D. Yapko (4/5)
Analytical Hypnotherapy, Vol. 1: Theoretical Principles – Jacquelyne Morison (4/5)
Analytical Hypnotherapy, Vol. 2: Practical Applications – Jacquelyne Morison (5/5)
Scripts and Strategies in Hypnotherapy: The Complete Works – Rodger P. Allen (4/5)
The Complete Psychological Works of Sigmund Freud
A Critical Dictionary of Psychoanalysis
A Dictionary of Psychology
Self Hypnotism : The Technique and Its Uses in Daily Living – Leslie M. Lecron
An Introduction to Jung's Psychology – Frieda Fordham
The Penguin Dictionary of Psychology
Training Trances by Overdurf and Silverthorn (2/5)
Below you will find suggested books, that cover a gamut of topics from health to spirituality.
You Can't Afford the Luxury of a Negative Thought (The Life 101 Series) – Peter McWilliams (Author), John-Roger
The Art of Happiness: A Handbook for Living by Dalai Lama(5/5)
Molecules Of Emotion: The Science Behind Mind-Body Medicine by Candace B. Pert (5/5)
My Stroke of Insight: A Brain Scientist's Personal Journey by Jill Bolte Taylor
The Biology of Belief: Unleashing the Power of Consciousness, Matter, & Miracles – Bruce H. Lipton Ph.D (5/5)
The Power of Now: A Guide to Spiritual Enlightenment by Eckhart Tolle (5/5)
Answer Cancer: Miraculous Healings Explained (The Healing of a Nation) by Stephen C. Parkhill (5/5)
The Healer Within: The New Medicine of Mind and Body by Steven Locke, Douglas Colligan, and Norman Cousins
Getting Well Again: The Bestselling Classic About the Simontons' Revolutionary Lifesaving Self- Awareness Techniques by O. Carl Simonton M.D., James Creighton Ph.D., Stephanie Matthews Simonton, and Stephanie Matthews
Your Body's Wisdom: A Body-Centered Approach to Transformation by Renee Welfeld
Wherever You Go, There You Are – by Jon Kabat-Zinn (5/5)
Anatomy of Hatha Yoga by H. David Coulter
The EFT Manual – Gary Craig
Everything You Need to Know to Feel Go(o)d by Candace B. Pert and Nancy Marriott
Power vs. Force – The Hidden Determinants of Human Behavior – David Hawkins, MD, Phd
Emotional Intelligence: Why It Can Matter More Than IQ
Emotional Intelligence: 10th Anniversary Edition; Why It Can Matter More Than IQ
A New Earth by Eckhart Tolle
Spark: The Revolutionary New Science of Exercise and the Brain by John J. Ratey and Eric Hagerman
Dentistry Without Mercury by Sam Ziff and Michael Ziff
Meditation For Dummies (Book and CD edition) by Stephan Bodian (Author), Dean Ornish (Foreword)
Kundalini Yoga Meditation: Techniques Specific for Psychiatric Disorders, Couples
Therapy, and Personal Growth
Psychophysiological States: The Ultradian Dynamics of Mind-Body Interactions