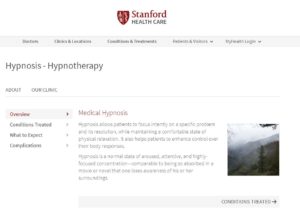 Medical Hypnosis
Hypnosis allows patients to focus intently on a specific problem and its resolution, while maintaining a comfortable state of physical relaxation. It also helps patients to enhance control over their body responses.
Hypnosis is a normal state of aroused, attentive, and highly-focused concentration—comparable to being so absorbed in a movie or novel that one loses awareness of his or her surroundings
Conditions Hypnosis Treats
This program teaches patients self-hypnosis to help them deal with:
Pain and physical symptom control
Smoking control
Procedural anxiety management
Medical treatment side effects such as nausea and vomiting
Stress management
Phobias
Stress-related neurological problems
Cancer
How Does Hypnosis Work?
Hypnosis is a state of deep relaxation that is believed to alter brain wave patterns. During hypnosis you may be given suggestions that could help to change your perception of pain and strengthen your coping abilities. Some reports provide strong evidence that hypnosis can reduce chronic cancer pain.
Nine out of ten people can be hypnotized. However, hypnotism will not work if you do not want to be hypnotized or do not want to feel out of control. Hypnotism requires trust and imagination.
Hypnosis evaluation (find below)
Cancer and hypnosis (find below)
Hypnosis Evaluation and Treatment
In the first session, patients are evaluated by means of a formal history so that realistic therapeutic goals can be developed. Hypnosis and its applications are then explored through a standard assessment of hypnotizability, which takes five to ten minutes. These results are discussed and used to plan the role of hypnosis in the overall therapy process.
Training in the use and application of self-hypnosis is taught in the initial and subsequent sessions. Follow-up appointments focus on evaluating response and refining these techniques, or pursuing other matters of interest to the patient. The number of sessions needed depends upon the response, goals, and interests of the patient.
Can Hypnosis Help People with Cancer?
Scientists do not know if hypnosis might affect cancer cells, your immune system, or the disease of cancer in any way. There is insufficient evidence at this time. Hypnosis is not a medical treatment for cancer, but there may be an important role for hypnosis in managing cancer. Hypnosis has been effective in helping patients reduce pain, stress, and depression, and calm fears and anxiety.
Are There Any Possible Problems or Complications Associated with Hypnosis?
It is not known exactly how hypnosis works but it is not believed to have harmful side effects. The success of the treatment depends partly on the skill of the practitioner and partly on the patient's willingness to undergo hypnosis. Hypnotherapy, as an addition to your cancer treatment plan, has the potential to be pleasant and productive, but should not replace the care and treatment provided by your cancer care team. Always consult your doctor for more information.
https://stanfordhealthcare.org/medical-treatments/h/hypnosis.html